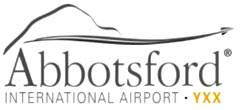 The Abbotsford Airport Authority (AAA) oversees the management and operation of the Abbotsford International Airport for, and on behalf of, the City. The Authority strives to secure air transportation services for the Fraser Valley; develop Airport lands for aerospace or other aviation-related industry or complimentary commercial venture that conforms to the Airport's Master Plan; and operate and develop the Airport to enhance the economic objectives of the City.
Capabilities
Mission & Strategic Direction
Vision
Abbotsford International Airport will be recognized as a competitive gateway for the region, and promote high quality economic growth and development.
Mission
The purpose of the Abbotsford International Airport is to manage, operate and develop this essential element of infrastructure in a businesslike way that supports economic activity in the Fraser Valley and creates employment opportunities for the region.
Organizational Values
The Abbotsford International Airport's organizational goals encompass the commitment:
To good governance
To conduct our activities with integrity and transparency and meet the expectations of partners, tenants and stakeholders; and
To be a customer-focused, low-cost and efficient alternative for residents and visitors to the Fraser Valley.
Strategic Objectives
Be a major passenger facility serving the Fraser Valley;
Increase charter service to international destinations;
Pursue aviation and aerospace opportunities which contribute to the long-term success of the airport and the region;
Develop productive relationships with current and prospective tenants;
Develop the airport property in a way that is consistent and supportive of the City/Regional plan;
Prudently use aviation lands for other uses on an interim basis; and
Be a low cost, customer-focused service provider.
Contact Information